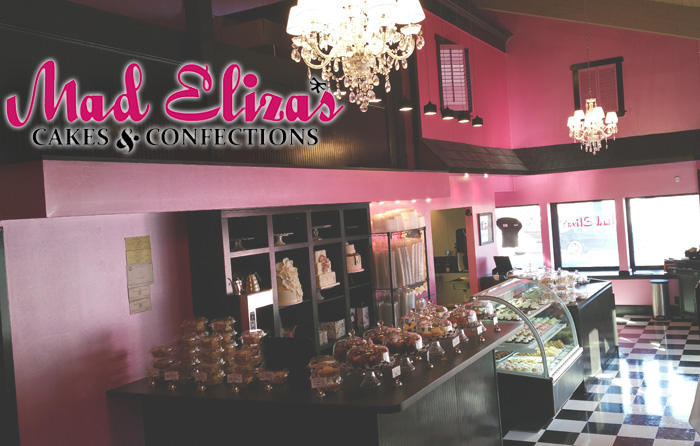 Mad Eliza's Cakes & Confections
Topeka's true "Mom and Pop" (Peggy and Mark) custom cake and gourmet dessert bakery welcomes you. We can tell you a lot online, but you'll need to come visit our shop for the full effect. We are proud to operate a truly one of a kind bakery. We do it with great pride, and with much care for quality. Here's a bit of recent proof of our attention to detail ... go ahead, have a look.
---
Location: 2839 SW 29th Street, Topeka, Kansas 66614 at Brookwood Shopping Center
Store Hours (Spring/Summer): 7:00 a.m. - 6:00 p.m. Tue. - Fri. and 8:00 a.m. - 3:00 p.m. Sat.
Delivery Hours: 9:00 a.m. - 3:00 p.m. Tuesday - Friday
Phone: 785-478-0880
---
Below are some recent reviews from TripAdvisor. You may find hundreds more Mad Eliza's reviews on Facebook.
---
Call in your Mad Eliza's order for delivery or carry-out. If you want to be sure we have that dozen cinnamon rolls hot and ready for you, or you need to save time and have it delivered right to your office, this is a great option for you! Delivery is available Tuesday-Friday from 9 a.m. to 3 p.m. Call 785-478-0880 to place your order.
---
View hundreds of photos of our cake craftsmanship on Flickr.
---
Join along with thousands of other cake lovers, get to know us, and see what others have to say about Mad Eliza's Cakes & Confections.